The destruction of hundreds of Russian tanks in Ukraine has been a major highlight of Russia's abysmal performance.
Many have proclaimed that the end of the tank is already here. Syria, Karabakh and now Ukraine. All three theatres showed just how vulnerable tanks are in modern combat. But tanks serve an important role. They provide powerful, fast, cost-efficient direct fire capabilities. Their versatility enables them to eliminate a variety of targets such as other MBTs, fast-moving vehicles, infantry and defensive fighting positions. In conventional warfare, armoured personnel carriers will often require the protection of tanks.
What Threats do Tanks Face?
There is no denying that tanks are more vulnerable than ever. They face many threats. Four, in particular, have proven to be especially dangerous in recent conflicts.
Wire-guided/laser beam riding anti-tank missiles: Have been in use for decades. Widely used in the war in Syria. Needs to be manually guided by the operator. Examples: BGM-71 TOW, 9M133 Kornet
Predicted line of sight anti-tank missiles: A relatively new concept. The operator tracks the tank for a few seconds. Based on the speed, direction and distance of the target, a trajectory is automatically calculated by the onboard computer, giving the missile a high probability of a successful strike. Examples: NLAW
Infrared-guided anti-tank missiles: Able to lock on to the infrared signature of a tank. Once fired, the operator can immediately seek cover (fire-and-forget). Examples: FGM-148 Javelin
Drone-launched laser-guided micro-munitions: A drone drops a gliding micro-munition, which is guided by an IR laser. Examples: MAM-L
What are active protection systems and how can they help?
Active protection systems (APS) are countermeasure systems that can automatically neutralize imminent threats. Active protection systems fall into two categories. Soft-kill and hard-kill. Soft-kill APS blind or confuse the sensors of missiles or their launch platforms. Whereas hard-kill APS launch countermunitions to destroy, deflect or slow down incoming projectiles.
Ideally, both types of APS should be installed for maximum survivability. However, it should be noted that soft-kill APS are far from a guaranteed solution. Modern sensors can be highly resistant to jamming or trickery. Furthermore, PLOS missiles such as the NLAW cannot be defeated by soft-kill APS. Not to mention unguided rockets, which are completely impervious to soft-kill countermeasures. Regardless of the drawbacks, many major militaries are pursuing soft-kill APS for their tanks. The prevalence of laser-guided and IR-homing missiles in today's battlefield makes soft-kill countermeasures increasingly necessary. Multispectral smoke and laser dazzling can trick the incoming missile/munition, making it miss the tank or even veer off in another direction.
As aforementioned, hard-kill active protection systems are designed to counteract incoming projectiles via psychical interception, destroying, deflecting or detonating them in mid-air. Because of this, they can defeat unguided projectiles, as well as PLOS missiles such as the NLAW. As a result, hard-kill APS are far more dependable when facing a plethora of potential threats. They can protect a tank in asymmetric warfare, unlike soft-kill systems. There is, however, a major drawback. Hard-kill APS systems can be a serious hazard to nearby infantry. This may require a change in tactics.
Despite the obvious benefits of hard-kill APS, there are only a handful of nations developing them. Israel had installed Trophy systems back in 2010. Trophy APS proved itself the following year by foiling a missile attack on an IDF Merkava MK IV. Since then, it has stopped numerous attacks. In fact, it has had zero reported false alarms and has prevented every single attack on IDF vehicles fitted with it. The US military has already installed hundreds of Trophy APS; meanwhile, Germany is in the process of integrating them on their Leopard 2 tanks.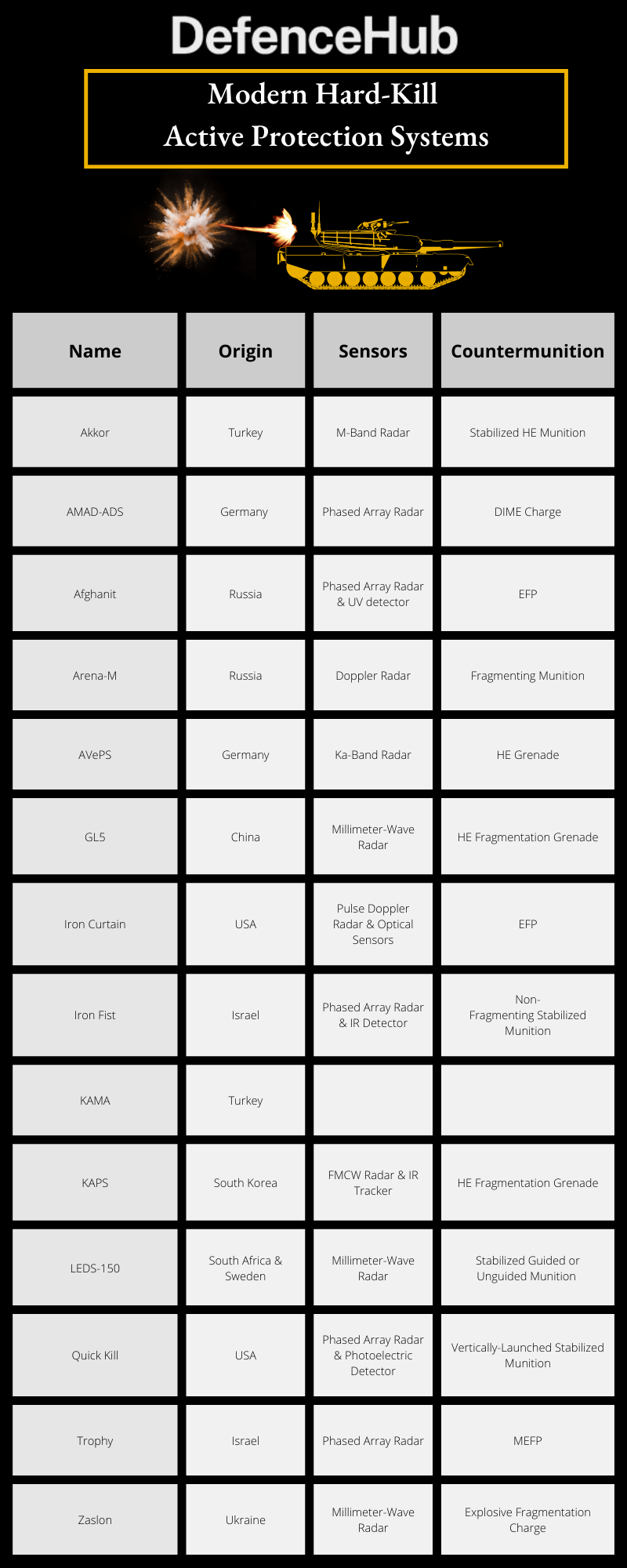 Interestingly, it was the Soviet Union that had the first operational hard-kill APS. Named "Drozd", it was used in Afghanistan, where it stopped the majority of RPG attacks. Due to its complexity and the danger posed to nearby troops, it was shelved. It was soon to be replaced with explosive reactive armour (ERA). In fact, to this day, Russian tanks make heavy use of ERA. Although ERA has the same basic purpose as hard-kill APS, it isn't nearly as effective. This is primarily down to the trigger distance. Hard-kill APS can weaken, deflect, destroy or prematurely ignite an incoming projectile from a distance. ERA, on the other hand, is triggered upon contact, meaning that they have little effect on kinetic energy rounds or tandem warheads.
Conclusion
Hard-kill countermeasures are by far the most effective way to protect tanks. Militaries should install them on tanks and all other armoured vehicles. Systems capable of counteracting top attack munitions should be a top priority. A combination of hard-kill and soft-kill active countermeasures should significantly increase the survivability of armoured vehicles.